Easy eh?
Carefree plants for carefree people...
This simple idea was the start for what would become SuccaPunch: Easy to care for plants pared with adorable planters.

Plants change the way we think about life. They make us happier, healthier, more efficient and boost our mood. Plants unlock our innermost creativity. They allow us to slow down and really think. They even allow us to breathe easier by filtering the air. A lot has changed, we don't go outside as often and enjoy nature. That lead to our epiphany; why not bring nature indoors with us? We think everyone deserves to have their own personal greenroom.

And, we think bringing nature in, should be, well, easy and stress relieving

Welcome to, easy to care for, plants.
Take it from us, caring for most plants is extremely hard. Water, light, soil, there are just too many requirements. Our solution? Provide the best looking, easiest to care for plants.

SuccaPunch is exclusively online, delivering air plants to doorsteps all over the U.S.A. It's quickly becoming a thing to help others keep their plants alive.

Every plant from SuccaPunch comes with simple care instructions, and our guarantee to be there for every step of the process. Our goal is to make the experience of owning one of our plants as wonderful as the plants themselves. We are here to help change the notion that you need a green thumb to have indoor plants.
We like to make the process of purchasing one of our beloved plant and planter combos as easy as the plants themselves are.

You can find most of our work on our Etsy shop or if you would like something special or a bulk order feel free to use the contact form on the next page.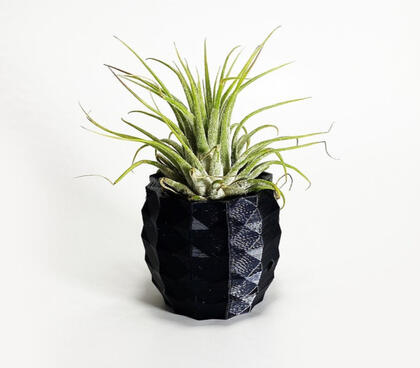 Air plant care

Air plants are one of the easiest to care for plants you will ever own. That's why we love them. Even if you don't have a green thumb you'll be delighted to know even the most novice enthusiast can keep their air plants thriving.
Light Requirements

Your Air plant will thrive in bright indirect light. What does that mean? Keep it in a bright room near a window but limit the time the sun has a direct path to the plant. Most species will do better with less light. If you find your air plant looking curling the end of its leaves you might be giving it too much light.
Water Requirements

Your air plant loves to be soaked. What is that you ask? To soak your air plant turn it upside down and submerge the plant up to it's base for 4-7 hours every 10-14 days. After soaking be sure to let the plant dry thoroughly. Some have had luck with soaking overnight. Some with less time. The key after soaking the plant is to let the plant fully dry. This should take about 12 hours. Don't overcomplicate this process. The more consistent you are about soaking your air plant the more probable your success will be.
Sad Plants

Overwatering is the biggest reason for air plants not doing well. Be sure to not water your air plant more than every 10 days. If you suspect overwatering you can feel the base of the plant. If it is soft that's a sign of overwatering. Again, let me repeat, DO NOT water your plant more than every 10 days.
Frequently asked Questions

Pets
Your air plant is 100% non toxic if eaten partially or wholly by your critters. We really do mean carefree.

Frozen Plants
We take care to ship only when the plant has a high probability of making it to you in less than 5 days. We also dry the plant thoroughly before shipping so it is less prone to freeze. If you end up with a frozen plant contact us immediately for a replacement

Roots
Air plants will occasionally grow roots. These aren't typical roots. They are used to latch onto whatever is around the air plant to keep it in its environment. These are usually a sign of good air plant health and location. If you do not like the look of the roots, feel free to cut them off with a pair of scissors. This will not affect the plant in any way.